There is nothing that beats the feeling of sliding into a nice warm bath, scented with just the perfect essential oil to help a tired body recuperate or simply to prepare for another day's adventure. HartNana's goat milk soap gift baskets come in a variety of "flavors" designed to match your mood.


Lavender Goat Milk Soap Gift Basket
The Lavender Goat Milk Soap Gift Basket has been created to encourage a good night's sleep. Lavender relaxes sore muscles, perfect for calming anxiety and stress. Lavender goat's milk soap and bath salts have been paired with Chamomile tea. Chamomile tea has long been used to relax and prepare for sleep. (It also helps with nausea)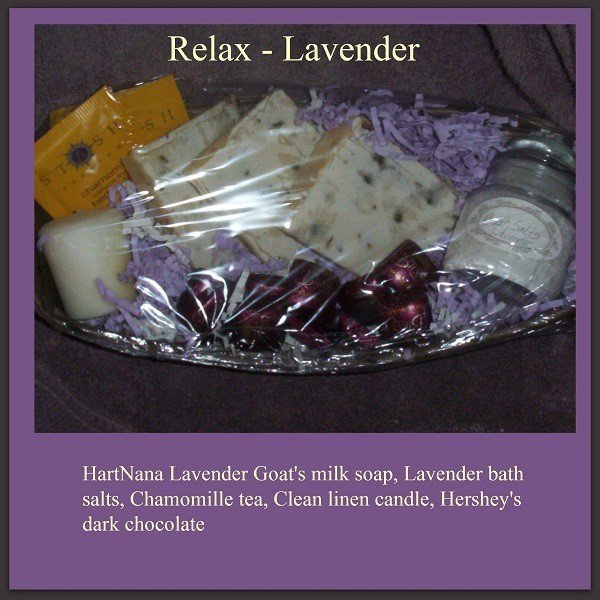 $25.00
Peppermint Goat Milk Soap Gift Basket
This peppermint goat milk soap gift basket is perfect for that harried person who needs to recharge. Pared with peppermint tea and Breezy Bath Salts to calm headaches and sooth tired muscles let peppermint be your picker up.
Breezy is an essential oil combination made by Butterfly Express that include; birch, eucalyptus, lemon, peppermint, ravensara. The main scent is peppermint.
$25.00
Honey Oatmeal Goat Milk Soap Gift Basket
Honey and oatmeal together give an added punch to the already nourishing properties of goat's milk soap. The little bits of oatmeal work as an exfoliant, gently removing dead skin cells while stimulating new ones to replace the tired and worn out cells. Honey has anti bacterial properties that protect your skin. This honey oatmeal goat milk basket was designed for everyday use. Paired with Chai tea and vanilla scented bath salts, an early morning soak will leave you charged and ready to face what ever the day has in store for you.
$25.00
Each goat milk soap gift basket is shipped via the US Post Office Priority mail and is available for purchase and shipping only within the United States.